Who doesn't reminisce from time to time of a warm & buttery grilled cheese especially as the weather starts to transition to winter? This garlic "grilled cheese" is made of plants, nuts and seeds. It is served warm out of the dehydrator. Why not give it a try?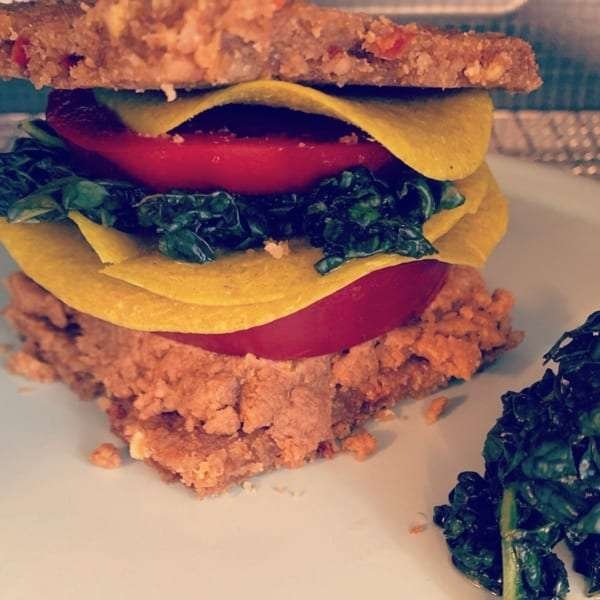 | | |
| --- | --- |
| | |
Soak walnuts for 6-8 hours rinsing several times. Freshly grind flax seeds. Add all ingredients and mix well. Add 1 1/2 tsp sea salt. Using a spatula add batter to a teflex dehydrator tray and form a square. This way you can cut bread pieces later. Dehydrate at 118 for around 8 hours. Flip about 6 hours in to make sure bottom is dehydrated. Cut into squares and seal the container until ready to assemble.

For the Cheese blend all ingredients in the Vitamix using the tamper when needed. Spread onto a teflex dehydrator sheet in small 4 inch circle rounds, not too thick. Dehydrate at 118 for around 5 hours. Flip for last 1 hour to get the bottom.

For the mock garlic butter simply add all the ingredients until you reach a desired consistency so that it spreads but is not runny.
Assemble grilled cheese by taking two pieces of the bread adding garlic butter, cheese, tomato and kale. Set back in dehydrator to serve warm with your favorite mocktail. Since it is Halloween weekend I am serving this with an Alien Blood Mocktail. Enjoy and Injoy!