Creating your dreams intentionally is a wonderful experience. This week one of my dreams has officially launched. One of my goals has been to create custom clothing utilizing sustainable fabrics and/or those that support more than just the one wearing them, those that benefit the highest good. This is in the way of connecting one another, and producing items that are sustainable and benefit all involved.
This week a masterpiece was finished;) I designed a beautiful, stylish and classy hemp shirt and had an outstanding/magical team assisting me with this project. My pattern maker and seamstress out did themselves!
I feel we are here to express in many ways! I have so many talents and abilities just like you. Why not open up all channels for the greatest good? This top is made of 100% hemp fleece, it looks classy yet its actually comfy and flattering. I mean how many times have you seen organic clothes or hemp clothes but it looks like a huge bag over your body or lounge clothes with drawstrings?
I want to look presentable and stylish and I bet you do too. There is a time and a place for lounge clothes and I have lots of them but I like to feel good in my wardrobe. I figured instead of complaining I will just be apart of the soulution and make my own.
So my intention and goal of my clothing at first was to outfit myself in clothes I feel extraordinary about and then share it with others. The tagline I have come up with is: Connecting Cultures Consciously Through Clothing.
When I was young my parents had foreign exchange students live with us, we were around lots of different people and my father always encouraged that I not limit myself to one group but be open to all people. I feel this is where some of my desires for this clothing line stems from. My Dad now assists villages in Honduras by getting them potable water. He and his buddies make water filters so that these people have clean water access. <3
With my dream and vision I look forward to going to other parts of the US, Africa, Honduras, Tibet, Cuba and other areas of the world to meet and connect with people and weave these stories into my garments.
So what I do is add some accent or functional accessory that is sourced from somewhere unique and share that person story with the garment. On this shirt I had the wooden buttons handmade with my logo: Dodhisattva Designs and the Angel Wings are burned into the wood. The man that made these buttons lives in Belarus and he is so wonderful at his craft! He is now apart of this conscious garment creation and I love that.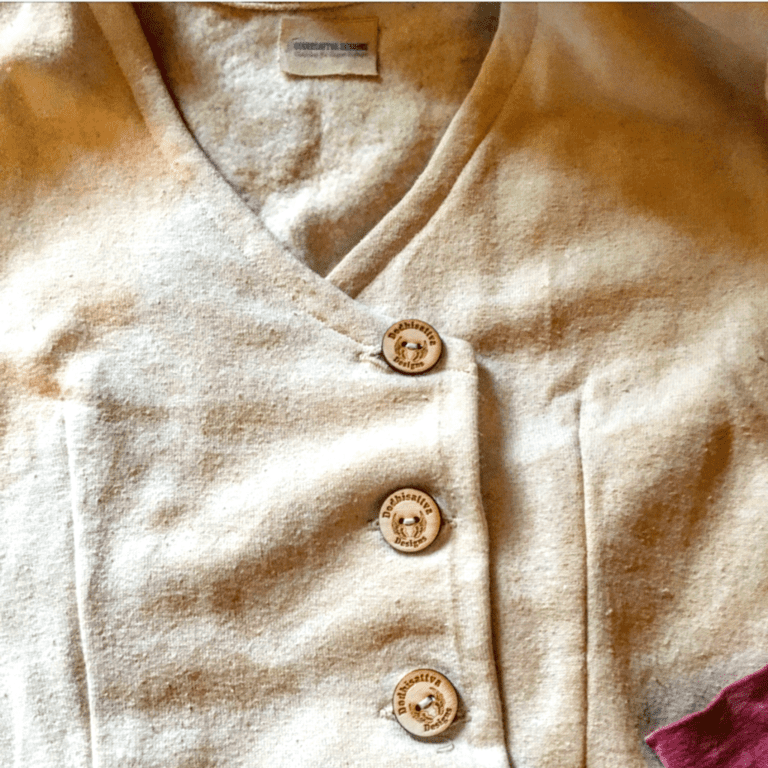 I pick up different fabrics or ribbons and buttons from different cultures too. My most recent find was a ornate ribbon from a woman in Peru. Her tribe makes these beautiful ribbons and they will line a Cloak type jacket I am creating.
I have always enjoyed clothing and style. And I feel I was given my own unique signature style to share and feel at home in my clothing. I have unique tags being created for the inside and they say: Dodhisattva Designs ~  Clothing for Super Beings~ That is just it!
Some of the clothing items will have emf shielding materials for travel. Hemp is nice because it is emf protective, comfy, planting more of it assists our planet to heal. It doesn't need much water and overall it raises the frequency of the planet.
My latest is a 100% hemp robe and wow, the fabric is divine. I also have recently collaborated with a woman whom has an alpaca farm and she helped me design leg warmers with the angel wing logo out of the healing alpaca fibers. Working with animal fiber is so blessed, sacred and grounding.
Creating your dreams is a very fun and joyful way to express yourself uniquely in the world. The best part is you have infinite amounts of creative energy once you tap into the aquifer of your soul. I find I have talents in many areas and all of them are equally enjoyable.
Some of my other interests/endeavors are sustainable home creation, fitness through conscious connection, of course epic food creations and online businesses  which assist others and create a better world.
Start honing in on your dreams. Ask yourself quality questions and just look at what you love to do all day or what do you want to be doing? You can always get started where you are at no matter what. If you do not think so comment on the post and I will give you a little nudge on how you can!
Create a high vibe day for yourself! Lots of LOVE & LIGHT. >>>