Recently I was inspired to take a trip to the North Eastern tip of the Olympic Penninsula and visit a special place called Port Townsend. From the city of Seattle, we took a ferry in order to get to the Port. I absolutely love the water so for me this was a fun adventure. I even saw a whale surfacing the top of the deep, thick, blue waters on the ferry ride there.  Seeing the life of the sea is such a wonder.  Port Townsend overlooks the Puget Sound, it is truly awe-inspiring. I once lived on a bay, and being near the Puget Sound brought back similar feelings I felt while living on a peaceful body of water: calm, serene fulfillment. The sunsets you can experience on these bodies of water are magnificent.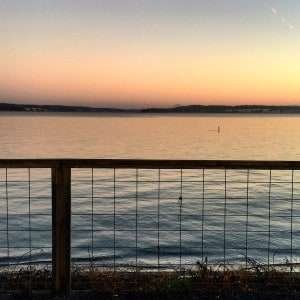 But what made this town so special? One's perspective about any situation is where the magic lies. The company you keep and the practice of being here, now does something too! The still,  yet alert attention to the now sets the stage for an epic, wonder filled journey in life. As we continue to shed old layers and deprogram in order to be here fully we wake up to a portal of truth. These three components: Presence, Friends, and Perspective made it extra special for me. Being with those that you can really be yourself around is super crucial because it's their where we shine an authentic expression of our human blue print.
We experienced magical bookstores with the largest Native American section I have ever seen in a book store. Washington feels very connected to Culture and Native American lineage (my personal observation). There are many Indian reservations and open wide lands in Washington. I ended up picking up a book about the Legends of the Yosemite Miwok. It had beautiful sketched pictures through out and interesting, imaginative tales to be told. It now sits on my coffee table and I think it will be a fun book to read on Christmas Eve while sipping tea with the scent of frankincense in the air next to a cozy fire with great company of course!
Next, on the the journey I was so inspired to take photos of this enchanted town.  These photos are all my favorites from the journey.  What made this so enchanting? Was it catching the light just right? The magic of the still presence of the Puget Sound? Or the connection to a deeper sense of being? Perhaps a little sprinkling from all of the above.
Walking through the historic town we peeked into a pub with live musicians playing there instruments and people inside watching in cozy sweaters.  Just down the street a special store caught my eye that was decorated in white Christmas lights called The Conservatory.  A place that had so much cheer and charm I was elated to find a special Pink Agate necklace on a piece of raw hyde that spoke to me.
I thought it would make a perfect gift for someone and I found that someone to be me.  Wearing this agate created such a shift, I really had no idea how powerful the stone was.  My friend said, "It found you." Indeed it did. The fact that it has no backing and touches the skin at the heart Chakra is in and of itself powerful.  When there is metal on the back of a stone or some other barrier to touch the skin I usually think twice about buying it as it's best to be touching the skin in my experience. With further investigation, I found that Agate is truly a longevity and healing stone.  It was the synchronicity code right before my eyes, and a stone that symbolizes the whole soul of this blog.
Pink Agate has the ability to cleanse any Chakra that needs it. So for me combining this stone with longevity protocols and especially the 5 Tibetan Rites Ritual has really enhanced the overall energetics of my bio-field. It is an adaptability stone so it gives energy when required and provides calming qualities when needed.
So as the night came and we boarded the ferry I left feeling a deep sense of peace
and enjoyment. My next stop to Port Townsend I will most certainly be checking out the Bath House full and complete with salt bath soaks, massage and saunas, now that is my kind of town.
I think above all else what cleansed & nourished my soul were the deep belly laughs that we had. Even in moments of adversity on the trip like getting a bit lost for having to wait for the ferry over an hour could have been a nightmare. But as a team our energy was present and lighthearted, the key to these type of moments.
Cultivating lightness and laughter does something to bring us back into the moment, nourish ourselves on a deeper level and remember what life is truly about.
Appreciation and Gratitude is a deep feeling, it does not need to be verbalized but sometimes just felt on a soul level. It emanates from us and ripples out into the still waters as waves of magical light.
May you have a blessed and wonder filled experience by following your inspiration to go and seek out adventures knowing you are held, safe and supported by the mother earth.